"Have nothing in your home that is not functional or that you do not believe to be beautiful"
William Morris
Fine furniture for the Home and Home Office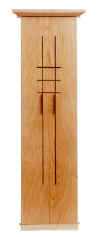 The Arts and Craft movement began in Britain in the 1860's with the ideas of philosopher John Ruskin and the designer and poet William Morris. In Scotland, the styles evolved independently from England resulting in the distinctive expression of the Glasgow School as exemplified by Charles Rennie Mackintosh. The movement found its own expression in North America that is evident in the styles of Gustav Stickley and Frank Lloyd Wright where it is generally referred to as 'Craftsman' or 'Mission' style.
A'anside Studios create furniture and accessories in the spirit of these craftsmen using native hardwoods accented with art glass and natural materials.
A feature of all of our furniture is the use of rectangular elements which give a vertical lift to the design resulting in an apparent lightness which compensates for the solid construction and exposed joinery which is characteristic of Arts & Crafts design.
Hand Crafted Wooden Boxes

Our boxes are about the love of wood; no two pieces of timber are the same so every box is as individual as our customer. Craftsmanship and finish are paramount, functionality is secondary. Boxes are closed containers holding the owner's secrets, usually six sided but there is no golden rule and so boxes may be geometric or sculptural; the only rule is that they must be beautiful and demonstrate the true glamour of the material which forms their foundation—wood.
This website is designed for those discerning individuals who realise that they would delight in owning a unique work of craftsmanship from Scotland's foremost box maker.
We also specialise in one-off bespoke boxes to hold jewellery , cigars, writing materials even squash balls! These are built to meet the exact needs of the client and are fitted out to suit.
All of our boxes are lined with appropriate materials; the smaller boxes with contrasting timber or baize (in a few cases the box just receives a lacquer finish on the inside) while the bigger boxes are lined with cotton velvet in appropriate toning colours. Fittings such as hinges are made from heavy gauge brass (designed and made by Brusso in the USA); these are not cheap but are chosen as appropriate for the function they are to perform. All lids are supported when open so that excessive strain is not placed upon the box sides.