Profile of A'anside Studios
High in the Cairngorm Mountains in the lee of Ben Avon lies the Scottish Highland village of Tomintoul where, at A'anside Studios, Barry and Jacqui Horning have been designing and crafting the finest in wood and stained glass since 1992. Together they specialise in creating unique products of the highest quality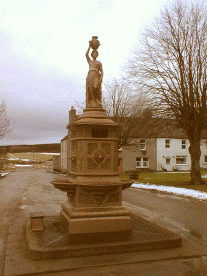 A self taught cabinetmaker, Barry uses Scottish hardwoods highlighted with farmed tropical species to create bespoke furniture, jewellery boxes, writing slopes and humidors in modern and traditional styles. For an unusual gift, choose our unique interpretations of traditional games – dominoes, cribbage and solitaire.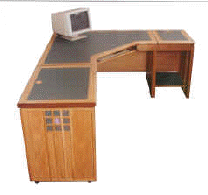 A stained glass artist, Jacqui creates a myriad of designs for lamps, mirrors, windows and decorative panels in Victorian, Art Deco, Mackintosh, Prairie and late 20th Century styles. Traditional cathedral glass and modern handmade opalescent and art glass are combined using lead came or copper foil (Tiffany) techniques to produce practical and decorative designs for all tastes. A major proportion of our work is repair and restoration of stained glass windows, panels and lamps. Please contact us for details.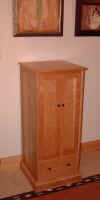 Tuition in stained glass design and construction is available at our workshops or at local evening classes.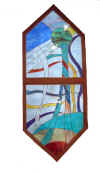 Unique creations in stained glass or wood can be commissioned from us. Whether it is a window, a lamp, a piece of furniture, a jewellery box or a humidor; where a standard product line does not satisfy your requirements then we would be delighted to discuss design and construction details with you.

We also retail outstanding craftwork from other talented Scottish craftsmen and women. Every item sold in the shop attached to our workshops is produced in Scotland and is of the finest quality and design. Examples of this work may be seen on our catalogue pages and are available world-wide by mail order.