A'anside Studios are delighted to undertake commissions to design and make stained glass panels, windows, lamps, mirrors etc. and to design and make one-off items of furniture, jewellery boxes, cabinets etc.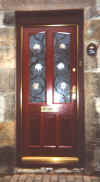 Furniture
We design and build furniture in both classical and modern styles, Sheraton to Shaker, Arts & Crafts to Contemporary, anything is possible. The use of native hardwoods such as Oak, Ash and Elm, imported hardwoods such as Cherry and Maple, even some exotics (though not Mahogany unless reclaimed from old furniture) result in beautiful and durable craftwork which fits into your chosen situation.

Jewellery Boxes
The ultimate gift for wife, girlfriend or, more commonly now, the man in your life. All of our boxes are made to order so every design that we show is in fact a one-off tailored to your exact requirements – lining, trays, dividers, even the timber the box is made from. That is not all, we will also design a unique box to your exact requirements, just ask. These boxes are equally suitable as writing companions, sewing boxes, collection boxes – the uses are only limited by your imagination!
Stained Glass
Whether you have a design you would like interpreted in glass, or want something more interesting than plain glass we have a wealth of experience and expertise to draw upon. We use everything from antique cathedral glass to the most modern art glasses to produce stunning designs in traditional and contemporary styles.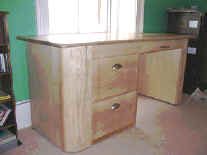 Child's chair
Designed and built as a christening present, the chair is sized to accommodate the child until about the age of 12. Adult versions are also available